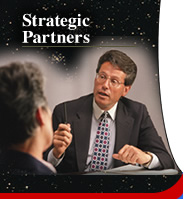 ULTIMATE Internet Access is pleased to work with a number of high-quality, professional companies who provide a wide variety of computer-related products and services. Each of the companies listed below excel in their specialty. Please feel free to contact them directly. Or call us to learn more about them.
STRATEGIC PARTNERS

---

ACS COMPUTER SYSTEMS, INC
www.acs-computer.com
909-625-3971
Montclair

Top quality Internet installations, computers sales & service, consulting & networking, and custom computers and servers.

---

COX COMPUTER
www.coxcomputer.com
(909) 466-8600
Rancho Cucamonga

Efficient business PCs, on-site service, networking and web-based on-line scheduling.

---

CTI MANAGEMENT SERVICES
www.ctimanagementservices.com
(866) 4 CTI SVS
Grand Terrace

Premiere provider of data and voice services in the Inland Empire. Computer, telephony, and Internet services.

---

DNET COMPUTERS
www.dnetcomputers.com
(909) 482-4600
Claremont

The original "do-it-yourself" computer store serving the Inland Empire and San Gabriel Valley since 1993. Providing customized and personalized desktop computers and laptops, parts, upgrades, repairs, networking, consulting and on-site service for home and business.

---

INLAND COMPUTERS
www.webicc.com
(909) 591-1944
Chino

Dedicated to providing Internet/Intranet solutions to businesses.

---

MILLENNIUM
www.mil-sys.com
(888) 349-4526
Upland

Providing world class network connectivity, support, and products for LAN and WAN environments.

---

SUPERIOR COMPUTER TECHNOLOGY
www.superiorcomputer.net

Providing expert Network and Internet services for over10 years. Superior can be your outsourced IT department.

---

HUMAN COMPUTER
www.humancomputer.com
(760)837-0100
Palm Desert

High quality computer products and services including Custom Servers and Desktop Computers, Laptops, Parts, Upgrades, Repairs, Networking, and DVR Security Systems.

---

IT CONTINUUM
www.itcontinuum.com

IT Continuum, Inc., located in Norco, California, was founded by Jonathan Salman and Chauncey Crist in 2002 as a full service multimedia, graphic design, application development and networking firm. The Company currently provides service in Riverside, Orange and Los Angeles Counties in California, in Tampa, Florida, and in various parts of China.

---

COMPUTER SOLUTIONS 2000
www.computersolutions2000.com
(909) 920-1233
Upland

Specializing in cost effective computing solutions.
---